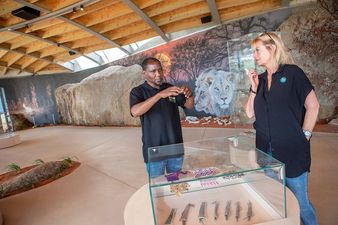 Since June 2016 you need to have a valid API key enabled to display Google maps, see plugin settings
KHWA TTU SAN ERFENIS SENTRUM OP DIE R27 NABY YZERFONTEIN IS DAAGLIKS OOP VANAF 09H00 - 17H00. BESPREEK JOU PLEK VIR 'N TOER MET 'N OPGELEIDE SAN GIDS EN BELEEF DIE GEES VAN DIE SAN MENSE. BESPREEK VERBLYF OF GENIET 'N SMAAKLIKE ETE. ONS BIED OOK KONFERENSIE FASILITEITE. BESOEK KHWATTU.ORG VIR MEER INLIGTING khwa ttu - san spirit shared.
From 09:00 until 17:00
At !Khwa Ttu, R27, Yzerfontein, Western Cape,
!KhwatTu, R27, Yzerfontein, Western Cape,
5 different tours each one is R160 P.P. and duration is 45 min. Self guided museum tour: Cost: R80,
info@khwattu.org / +27 (0)22 492 2998
Tea Tasting -  the veld pharmacy:Cost: R160Duration: 45 minutes
San and other indigenous people have always understood the plants around them were so much more than simply pretty flowers or a tasty snack.12,000 years ago we were all hunter-gatherers.  Re-discover some of the powerful knowledge you have lost - what to use to win a wife, or heal a wound, or keep you alive on the long journey ahead.   If lucky, you may also meet our chickens and hear one of their stories in |Xung.
First People – food from our forefathers:Cost: R160, Duration: 45 minutes
Walk with us into the past. Let us introduce you to our shared story of human origins in South Africa. Hear what archaeologists can tell us about our ancestors who lived in this region for 200,000 years and let us show you how we have kept this knowledge alive. Use the tools, hear the knowledge and try the food that made life possible. 
Encounters – when cultures collide: Cost: R160, Duration: 45 minutes
Our ancestors lived here alone, hunting and gathering for thousands of years.Others started to arrive around 2,000 years ago. Europeans arrived in the Cape of Good Hope 350 years ago. Life as we had known it for centuries, changed irrevocably.The repercussions of these cultural collisions, still reverberate today. But this is not just a simple tale of winners and losers. The fascinating stories and recollections from this time may change your
perspective in surprising ways.
Way of the San – spirit, hunting and gathering: Cost: R160, Duration: 45 minutes
12,000 years ago we were all hunter gatherers.We knew that we, the land, the plants, the animals and the elements were all connected. We understood not only how to live, but how to live well in the world.Join this tour and discover that the more you know, the less you need.
Tracking – reading the signs:Cost: R160, Duration: 45 minutes
Join this tour and realise that to catch your supper you need so much more than an understanding of how to read the tracks in the sand.Your San guide will teach you a little of the information that can be read in the bushes, beside the water hole and in the wind.But don't worry, this ancient knowledge will be blended with a new world ride on !Khwa ttu's famous, green tractor.
Self guided museum tour:Cost: R80,
There is such a richness and depth of content in our three museum buildings that you could spend many hours engaging with our exhibitions.  We invite you to do this at your leisure. Simply buy your entrance ticket and collect yourself guide map at Reception.
There are an estimated 130,000 San living across six countries in southern Africa. The San are one of the last hunter-gatherer societies left on earth. Their ancient way of life, their languages, and their culture are under grave threat from dis-enfranchisement, climate change impacts, and a widespread lack of understanding of their way of life.
The story of the San is one that many people across the world might not know, but it is one that everyone will recognise. It is our story - the story of humankind. At !Khwa ttu, the San tell this story, in their own words.