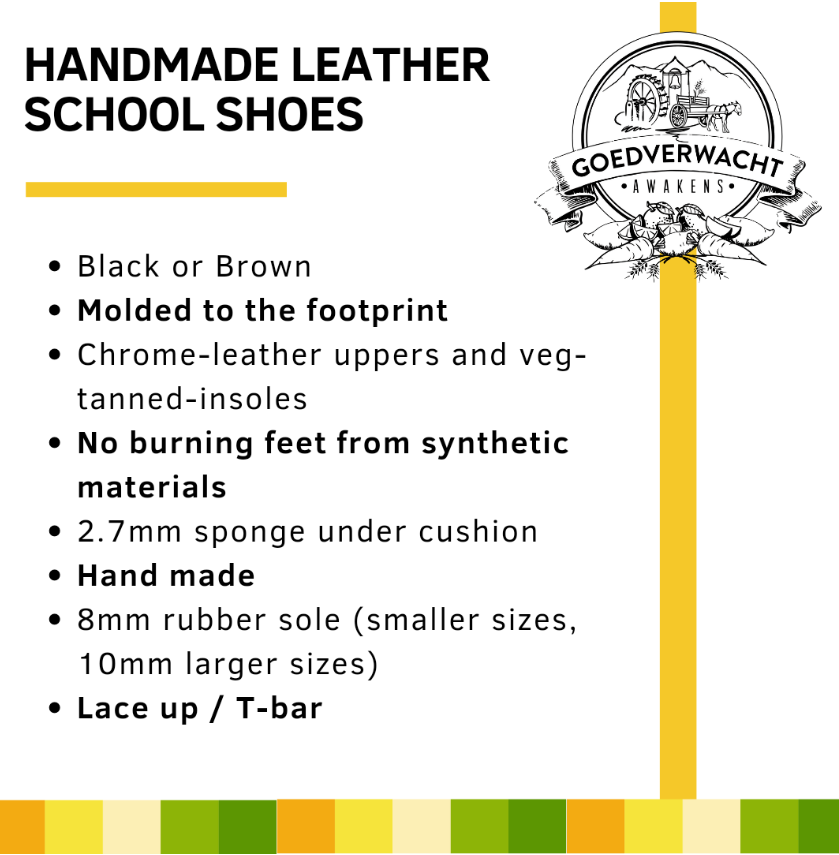 Since June 2016 you need to have a valid API key enabled to display Google maps, see plugin settings
The School Shoe Project will provide school shoes for the rural school kids and create long term sustainable jobs and apprenticeships in the Cobblers Shop. The funds raised will be used to purchase additional equipment required to operate the Cobblers Shop efficiently, for stock to make the shoes and for operational expenses. For more information please call +27 (0)73 957 3549.
At Mill Museum, Kerk Straat, Goedverwacht, Piketberg, Western Cape
Mill Museum, Kerk Straat, Goedverwacht, R399, Piketberg, Western Cape
https://www.goedverwacht.org.za/about/
Please help to donate
Goedverwacht +27 (0)73 957 3549 / hello@goedverwacht.org.za
It was established in 1889 as a Moravian Mission station and has a fascinating story.
The land originally belonged to a widowed farmer, Hendrik Schalk Burger. When the emancipation of the slaves was in sight, he asked his slave, Maniesa (originally from Bengal, India), and her five children and son-in-law to stay on the farm with him and care for him until his death. In his will, he left the farm to Maniesa and her children with the instructions that when all her children had died; their descendants should sell the farm and divide the proceeds. His own children challenged the will in court twice but it was upheld and remained in Maniesa's family's hands until 1888 when her last child, Hester, died. Her grave can still be seen in the graveyard. Their descendants then decided that instead of selling the farm on open auction, they would sell it to the Moravian Missionaries for 750 Pounds. Owing to its close proximity, Goedverwacht was run as a unit with the older Wittewater Mission for many years.
Activities daily: